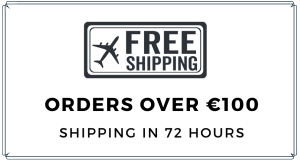 *FREE SHIPPING for Orders Over €100 (EU Countries Only)
TEMPORARY LIMITS ON SHIPMENTS
At Optomarket.net we continue to work to ensure supplies and deliveries. Despite our efforts and given the exceptional health situation, in certain territories there may be temporary limits to the service.
*We currently aren't able to ship to Ukraine, Belarus, and Russia because the courier services have suspended the operations due to the current events.
DELIVERIES
Shipping costs are charged to the customer.
Packages are sent with UPS transport agency.
There is a minimum of 72 hours * from evasion to receive the goods. With this delivery method, you will be able to track the delivery via a URL provided by the courier.
Shipping costs include packaging, preparation and shipping. All orders that are shipped on pallets may be subject to delays of up to 48 hours for their processing.
Failure to deliver due to "Incomplete, incorrect or missing address"
Optomarket.net cannot be held responsible for any non-deliveries due to an address declared incomplete, incorrect or missing address by the courier.
In this case, the customer service of Optomarket.net will contact the customer in order to get the right shipping address.
If the customer will not give us the right shipping address and he or she will not be available after two reminders, Optomarket.net will not be responsible of non-delivery and no credit note will be issued for the customer's order.

If the package is returned for a reason for which you are responsible (unclaimed package, incorrect/ incomplete address…), you will have to pay new delivery costs before the package is sent back.
In case of delay due to any event that does not allow the normal delivery of the products, Optomarket.net cannot be held responsible for delays.
Please note: Optomarket.net does not offer the possibility of partial shipment.
* All orders that require shipment on pallets may be delayed.
Free delivery
You can get the free delivery* on order over 100€ (IVA is not included).
*The express delivery is not included in the promotion.
Price UPS Standard ( Italy and Europa )
Area List
Area A, B
Area C
Area D
Area E
Area F
Area G
Area H
Area List
Area A
Italia (IT) [except Sicilia, Sardegna, Calabria] – San Marino (SM)
Area B 
Italia (IT) [Sicilia, Sardegna, Calabria]

Area C
Belgio (BE) – Danimarca (DK) – Francia (FR) – Germania (DE) – Inghilterra (GB) – Irlanda (IE) – Lussemburgo (LU) – Principato di Monaco (MC) – Olanda (NL) – Portogallo (PT) [ except Azzorre e Madera ] – Spagna (ES) [ except Isole Canarie, Ceuta e Melilla ]
Area D
Austria (AT) – Croazia (HR) – Finlandia (FI) – Slovenia (SI) – Svezia (SE)
Area E
Andorra (AD) – Isole del Canale (Guernsey) (GG) – Isole del Canale (Jersey) (JE) – Liechtenstein (LI) – Norvegia (NO) – Svizzera (CH)
Area F
Repubblica Ceca (CZ) – Grecia (GR) – Polonia (PL) – Slovacchia (SK) – Ungheria (HU) 
Area G
Bulgaria (BG) – Estonia (EE) – Lettonia (LV) – Lituania (LT) – Romania (RO) 
Area A, B
Area C
Area D
Area E
Area F
Area G
Area H

Price UPS Express Saver ( Extra-Europa )
Area List
Area 101
Area 102
Area 103
Area 104
Area 105
Area 106
Area List
Area 101
Albania (AL) – Bielorussia (BY) – Bosnia-Erzegovina (BA) – Gibilterra (GI) – Groenlandia (GL) – Islanda (IS) – Isole Faroe (FO) – Kosovo (KV) – Macedonia (MK) – Moldavia (MD) – Montenegro (ME) – Russia (RU) – Serbia (RS) – Ucraina (UA)

Area 102
Canada (CA) – Puerto Rico (Portorico) (PR) – Stati Uniti (US)
Area 103
Afghanistan (AF) – Antigua e Barbuda (AG) – Aruba (AW) – Bahamas (BS) – Barbados (BB) – Bermuda (BM) – Bolivia (BO) – Bonaire (BQ) – Brunei (BN) – Cina, Repubblica Popolare (CN) – Corea del Sud (KR) – Curaçao (CW) – Dominica (DM) – Figi (FJ) – Giamaica (JM) – Grenada (GD) – Guadalupa (GP) – Guam (GU) – Hong Kong (HK) – India (IN) – Isola Unione (St. Vincent e le Grenadine) (VC) – Isole Cayman (KY) – Isole Turks e Caicos (TC) – Isole Vergini Britanniche (VG) – Isole Vergini Statunitensi (VI) – Martinica (MQ) – Nevis (St. Kitts – Nevis) (KN) – Pakistan (PK) – Saba (BQ) – Samoa (WS) – Samoa Americane (AS) – Singapore (SG) – Sri Lanka (LK) – St. Barthélemy (BL) – St. Christopher (St. Kitts-Nevis) (KN) – St. Croix (Isole Vergini Statunitensi) (VI) – St. Eustatius (BQ) – St. John (Isole Vergini Statunitensi) (VI) – St. Kitts (St. Kitts-Nevis) (KN) – St. Lucia (LC) – St. Maarten (SX) – St. Martin (Guadalupa) (SX) – St. Thomas (Isole Vergini Statunitensi) (VI) – St. Vincent e le Grenadine (VC) – Sud Africa (ZA) – Taiwan (TW) – Tortola (Isole Vergini Britanniche) (VG) – Trinidad e Tobago (TT) – Virgin Gorda (Isole Vergini Britanniche) (VG)
Area 104
Arabia Saudita (SA) – Argentina (AR) – Australia (AU) – Bahrein (BH) – Bangladesh (BD) – Bhutan (BT) – Birmania (MM) – Brasile (BR) – Cile (CL) – Colombia (CO) – Costa Rica (CR) – Dominicana, Repubblica (DO) – Ecuador (EC) – Egitto (EG) – El Salvador (SV) – Emirati Arabi Uniti (AE) – Filippine (PH) – Giappone (JP) – Guatemala (GT) – Haiti (HT) – Honduras (HN) – Indonesia (ID) – Iraq (IQ) – Kuwait (KW) – Macau (MO) – Maldive (MV) – Malesia (MY) – Messico (MX) – Mongolia (MN) – Montserrat (MS) – Nuova Zelanda (NZ) – Oman (OM) – Panama (PA) – Paraguay (PY) – Perù (PE) – Polinesia Francese (PF) – Qatar (QA) – Tahiti (PF) – Tailandia (TH) – Uruguay (UY) – Venezuela (VE)
Area 105
Algeria (DZ) – Angola (AO) – Anguilla (AI) – Armenia (AM) – Azerbaigian (AZ) – Belize (BZ) – Benin (BJ) – Botswana (BW) – Burkina Faso (BF) – Burundi (BI) – Cambogia (KH) – Camerun (CM) – Centrafricana, Repubblica (CF) – Ciad (TD) – Cisgiordania (Gaza) (PS) – Congo (Brazzaville) (CG) – Congo, Repubblica Dem. (CD) – Costa d'Avorio (CI) – Eritrea (ER) – Etiopia (ET) – Gabon (GA) – Gambia (GM) – Gaza (Cisgiordania) (PS) – Georgia (GE) – Ghana (GH) – Gibuti (DJ) – Giordania (JO) – Guinea (GN) – Guinea Equatoriale (GQ) – Guinea-Bissau (GW) – Guyana (GY) – Guyana Francese (GF) – Isole Capo Verde (CV) – Isole Comore (KM) – Isole Cook (CK) – Isole Marianne del Nord (MP) – Isole Marshall (MH) – Isole Salomone (SB) – Isole Wallis e Futuna (WF) – Israele (IL) – Kazakistan (KZ) – Kenya (KE) – Kiribati (KI) – Kosrae (Stati Federali della Micronesia) (FM) – Kyrgyzstan (KG) – Laos (LA) – Lesotho (LS) – Libano (LB) – Liberia (LR) – Libia (LY) – Madagascar (MG) – Malawi (MW) – Mali (ML) – Marocco (MA) – Mauritania (MR) – Mauritius (MU) – Mayotte (YT) – Micronesia (Stati Federali della Micronesia) (FM) – Mozambico (MZ) – Namibia (NA) – Nepal (NP) – Nicaragua (NI) – Niger (NE) – Nigeria (NG) – Nuova Caledonia (NC) – Palau (PW) – Papua Nuova Guinea (PG) – Ponape (Stati Federali della Micronesia) (FM) – Réunion (RE) – Rota (Isole Marianne del Nord) (MP) – Ruanda (RW) – Saipan (Isole Marianne del Nord) (MP) – Senegal (SN) – Seychelles (SC) – Sierra Leone (SL) – Suriname (SR) – Swaziland (SZ) – Tajikistan (TJ) – Tanzania (TZ) – Timor Est (TL) – Tinian (Isole Marianne del Nord) (MP) – Togo (TG) – Tonga (TO) – Truk (Stati Federali della Micronesia) (FM) – Tunisia (TN) – Turkmenistan (TM) – Tuvalu (TV) – Uganda (UG) – Uzbekistan (UZ) – Vanuatu (VU) – Vietnam (VN) – Yap (Stati Federali della Micronesia) (FM) – Yemen, Repubblica dello (YE) – Zambia (ZM) – Zimbabwe (ZW)
Area 106
Turchia (TR)
Area 101
Area 102
Area 103
Area 104
Area 105
Area 106